Every runner wants to equip themselves with the best gear: the best running shoes, running socks, running vests…the list goes on. And if you're bringing your training indoors, you'll also want the best treadmill.
"Safety and convenience are the first two benefits [of treadmills] that come to mind," says Steve Stonehouse, NASM, USATF, and Director of Education for STRIDE. "When the weather gets crazy, different surfaces tend to respond differently to the elements. The last thing you need while training for a race or just trying to stay fit is to get injured," he adds.
Some of us, additionally, are not really into the gym or running outside, and prefer more privacy during our workouts. Or maybe we want a treadmill under our desk to get more steps in during a workday. Whatever your reasoning, it's essential to find the best treadmill for you.
What to Look for in a Treadmill
To buy the right treadmill for you, you'll need to answer a few questions. What is your budget? How much space for the treadmill do you have? What continuous horsepower (CHP) do you need? Most popular treadmills have CHPs ranging from 2.25 to 4.25. The higher the CHP, the more versatile the treadmill.
"The CHP measures how much power the motor maintains throughout the workout. The higher the speed, the more frequent the use or, the heavier the user, the higher CHP you will want in your machine," says Stonehouse.
You'll also need to start thinking about what your goal is in purchasing this treadmill: Do you need a higher-powered device for intense marathon training? Are you looking for a simple treadmill without all the frills for home workouts? Is a small treadmill desk appropriate for merely getting more movement throughout your workday?
Think about how and why you'll be using your new machine so you can find the best treadmill to fit your needs.
Best Inexpensive Treadmills
1. Anwick Home Foldable Treadmill
For only $100 (an insane steal!), this foldable treadmill has tons of helpful features. It has a spacious running surface, 2.0HP low noise peak power motor, up to 7.5MPH running speed, and a large multifunctional LED display to show time, speed, calorie, distance, steps.
With two moving wheels to simplify packing up and putting away, this is the perfect treadmill for apartment dwellers and those with limited space.
Price: $90
2. WalkingPad C2 Mini Foldable Walking Treadmill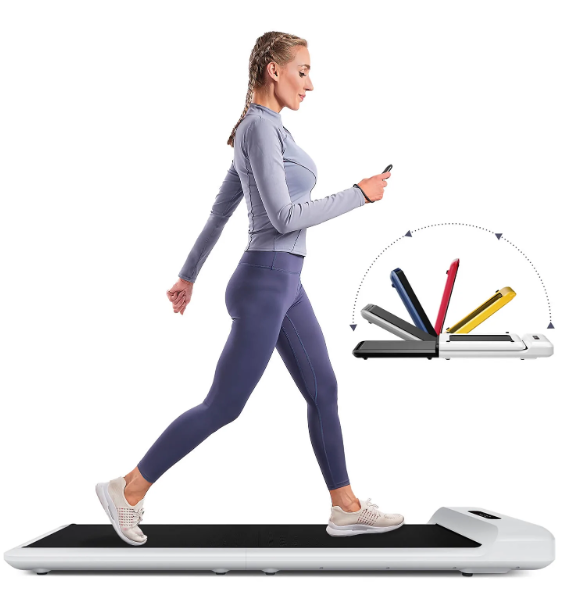 If you're shopping for a treadmill desk that'll help you stay active during your eight-hour workday without annoying your coworkers, look no further. The WalkingPad treadmill features a compact, foldable design that makes for convenient and easy storage.
And with its brushless motor, you can be sure that it'll be quiet enough to use at any point in the day (or night) without disturbing your neighbors.
Price: $599
Best Mid-Range Treadmills
3. NordicTrack T Series Treadmills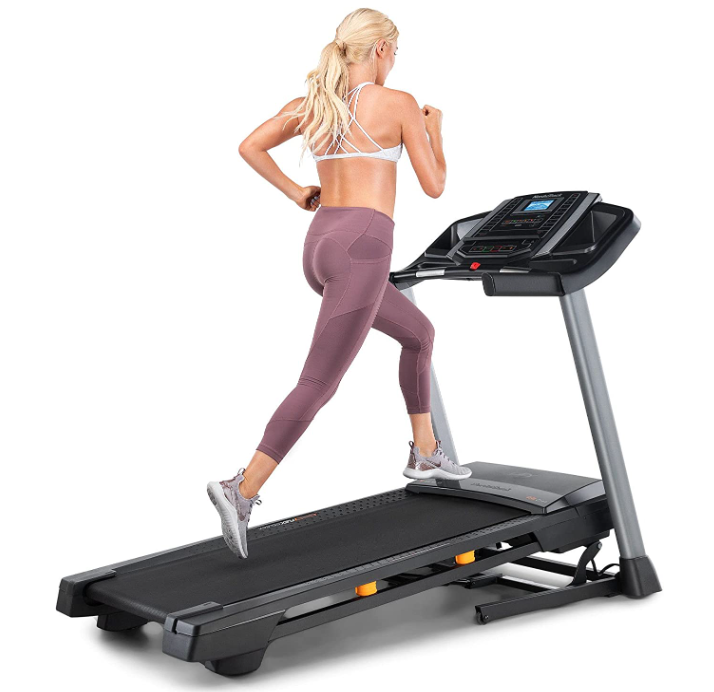 This inexpensive treadmill features 0 to 10 percent OneTouch incline control, 0 to 10MPH Smart OneTouch speed control, and 2.6CHP DurX Smart Response Motor that stays quiet enough for use in an apartment or shared home! It also folds up for compact storage, all for under $800.
Price: $799
4. Nautilus T618 Treadmill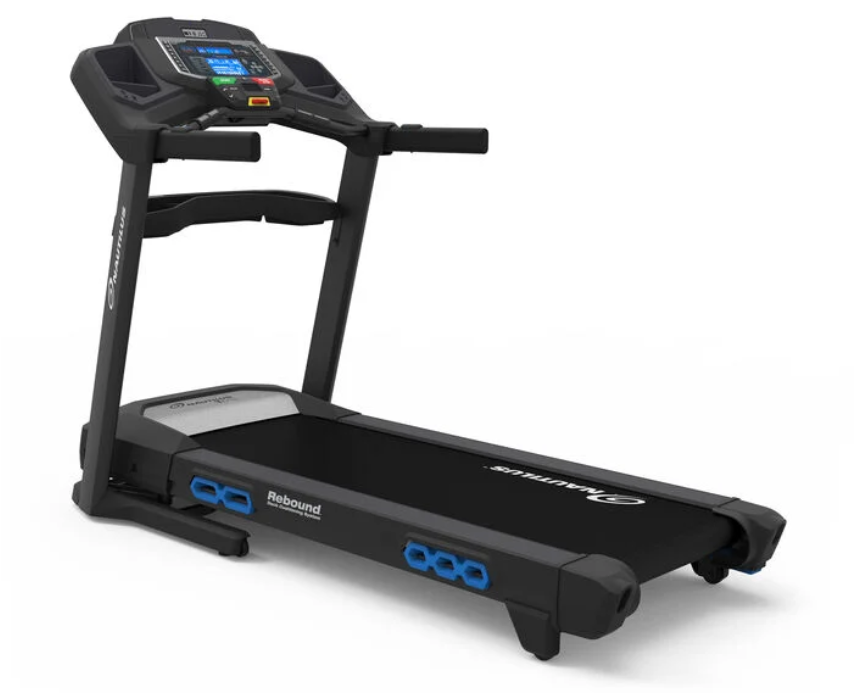 This mid-range treadmill has everything you're looking for in a quality running experience. It features a 20″ x 60″ gym-quality running path and a 3-ply 2.5-mm belt for increased traction and optimal durability.
It also includes a fully-loaded console with an easy to read screen, integrated controls, a 3.5CHP motor, and Bluetooth connectivity to their RunSocial app, complete with locations and programs for more effective running!
Price: $1,499
Best High-End Treadmills
5. NordicTrack Commercial X32i Incline Treadmill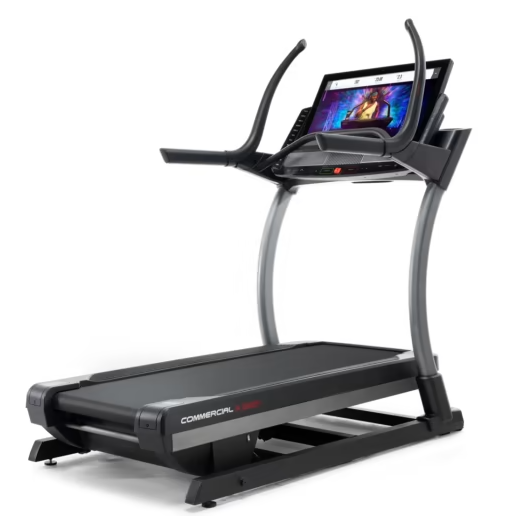 As far as luxury treadmills go, this one by NordicTrack rules them all. It inclines up to 40 percent (hello buns!), comes with a gorgeous 32″ interactive touchscreen and an iFit membership (a $468 value).
It features a 4.25CHP motor, 50 onboard workout programs, low-impact cushioning, push bar, and sled grips to work your arms.
Price: $3,999
6. Landice L8 Cardio Treadmil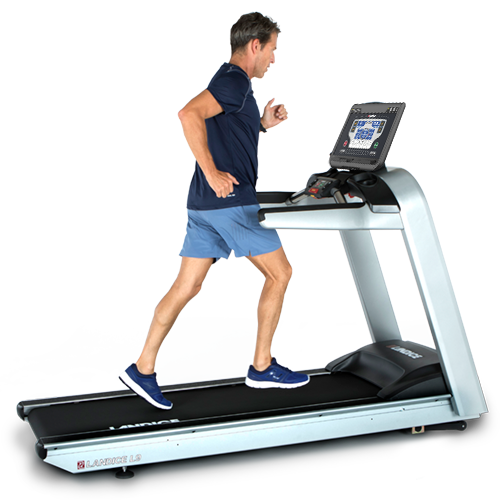 Designed for serious runners (or maybe just really tall runners) who need more space, the Landice L8 treadmill offers a 22-inch wide by 63-inch long running surface, which Stonehouse highly recommends. It's quiet, smooth, and responds super quickly to incline and speed changes so that you can get your favorite HIIT workout in.
It also comes with a 4HP continuous-duty drive motor, 500lb user weight capacity, and 15 percent grade electric elevation.
Price: $5,899
Our Expert's Pick:
7. Woodway 4 Front Treadmill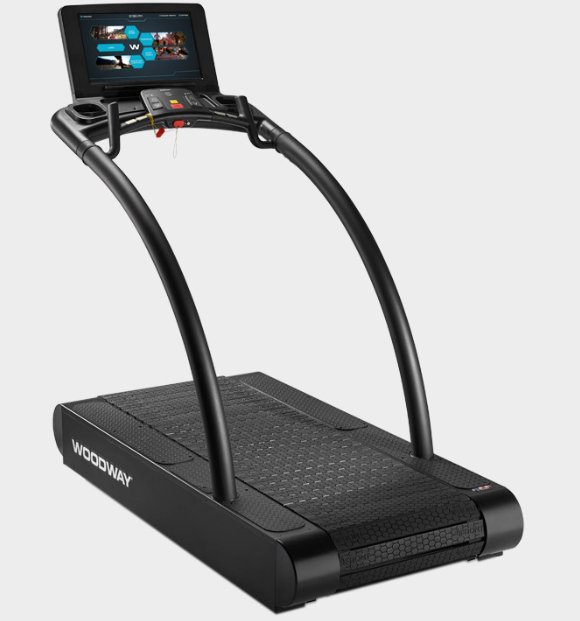 After evaluating the best treadmills, Stonehouse is a fan of Woodway.
"Woodway treadmills are the top of the treadmill food chain," he says. With their patented Slat Belt, "the Woodway running surface actually absorbs energy at the point of impact, eliminating harmful shock to joints and connective tissues."
The running surface is made of vulcanized rubber, which can last for more than 150,000 miles of running!